COMESA and Sudan Engage On Regional Integration Issues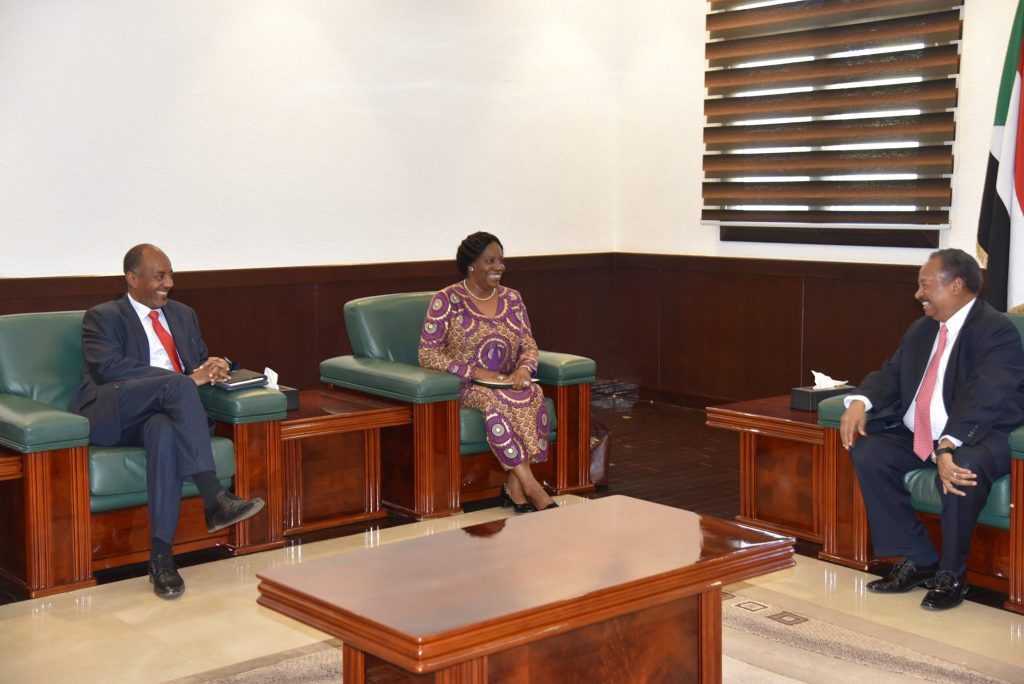 Jan 21, 2020
Secretary General Chileshe Mpundu Kapwepwe is leading a high-level delegation comprising of Heads of COMESA institutions, Directors and Senior Officers in Khartoum, Sudan on a tour of duty to re-engage the leadership on that country's participation in regional integration programmes as spearheaded by the bloc.
The delegation has so far met Prime Minister Right Hon. Abdalla Hamdok in his office in Khartoum where they discussed various issues on COMESA programmes and reviewed the level of implementation.
During the meeting, Prime Minister Hamdok reiterated his government's commitment to COMESA and pledged to continue working with the 21-Member trade and development bloc in order to deepen regional integration.
He pointed out that Sudan considers COMESA as a strong and dependable Regional Economic Community (REC) which they can depend on to support their development programme.
"I am happy that you are here as Secretary General with your team so that we can re-engage on the many programmes that we are implementing. We believe COMESA is a strong organisation and it will help us achieve our desires of developing our nation," PM Hamdok said.

He briefed the delegation on the various interventions being implemented in the area of trade and appealed for help to move the country from exporting raw materials to value addition on all the products being exported. This he added will help to create jobs for women and youths. The PM also requested for support from COMESA in areas of infrastructure development, finance, energy and agriculture.
The issues of empowering women and youths was also discussed and both sides committed to working together in this regard. Sudan was also requested to ratify the COMESA-EAC-SADC Tripartite Free Trade Area (TFTA) ahead of the launch scheduled for Rwanda during the course of this year.
Ms Kapwepwe, who is on her maiden visit to Sudan as SG, commended the PM and his government for their continued dedication to deepening regional integration. She mentioned that Sudan is a founding member of COMESA and has been an active participant in COMESA programmes since it joined the organisation.
She revealed that there are many more areas such as Information Technology (IT), e-commerce and energy that the Secretariat could work with Sudan as the country moves to enhance development.
Before meeting the PM, Ms Kapwepwe held a brief meeting with the Minister of Industry and Trade Honourable Medani Abbas Medani and the Under-Secretary Mr Mohamed Ali Abdella at the Ministry of Trade.
The SG is accompanied to Sudan by Trade and Development Bank (TDB) Bank President Mr Tadesse Admassu, COMESA Competition Commission Chief Executive Officer Mr George Lipimile, COMESA Court of Justice Registrar Ms Nyambura Mbatia, Federation for Women in Business in Eastern and Southern Africa (FEMCOM) Chief Executive Officer Ms Ruth Negash and ZEP-RE Country Manager Dr Hatim Abbas Mudawi.
Others are the Director of Gender at COMESA Secretariat Mrs Beatrice Hamusonde, Acting Director of the Agriculture and Industry Mr Innocent Makwiramiti, Legal Affairs Officer Mr Gabriel Masuku, Trade Expert Dr Seth Gor and COMAID Coordinator Mrs Hope Situmbeko.