COMESA Celebrates 25 Years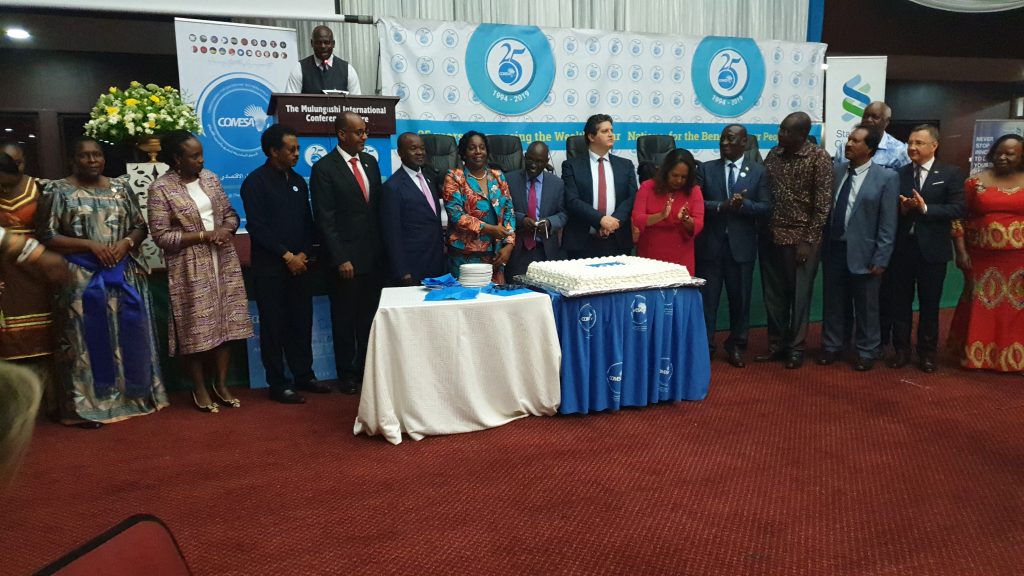 The Common Market for Eastern and Southern Africa – COMESA, yesterday celebrating 25 years since it was established in 1994 to succeed the Preferential Trade Area (PTA).
More than 300 delegates, led by Ministers and their representatives from the 21 Member States were in Lusaka, Zambia attended the celebrations hosted alongside the annual COMESA Policy Organs meetings.
Key activities lined-up include a gala where high-level panel discussions took place, reflecting on the past and the future of COMESA. Immediate former Deputy Chair of the African Union Mr. Erastus Mwencha, who is also a former Secretary General of COMESA was among panelists.
At the event, Burundi was expected to present its instrument of ratification of the Tripartite Free Trade Area agreement which brings COMESA, East African Community, and Southern Africa Community into a cooperative framework. This will bring to six the number of countries that have so far ratified the Agreement.
Two new transformative innovations that provide solutions to contemporary challenges, has been recognized and awarded during the ceremony. The innovations were identified under the COMESA Innovation Award Scheme, which focuses on new products, new methods of production and new ways of improving the technology.
They include BRIISP Power System (BPS) a power system that sustains power almost in its normal range despite being used. Developed by a young Zambian university student Billy Munyenyembe the innovation has the potential to increase power access and reduce inconsistency of power supply.
"Sufficient power is critical to meet the demand of local and eventually global market, youth empowerment and massive job creation in the process, which will also contribute positively to the economic growth and poverty eradication in Zambia," Munyenyembe said.
The other innovation that has been recognized is the African Gate (AFGT) by Giza Moto company of Egypt. AFGT is a trade platform intended to create value by exchanging goods with the potential of re-exporting to new markets and thereby expand inter- African Trade.
"The major benefit of countertrade is it facilitates conservation of foreign currency, which is a prime consideration for cash-strapped nations and provides an alternative to traditional financing that may not be available in developing nations," said the innovator, Mohamed Gaber.
A previous winner of the Innovation Award, Mr. Jacob Maina of Kenya, will give a testimony on how financial support from COMESA helped him set up a successful motor vehicle security company. He is one of the 120 young African game-changers listed in Forbes Africa 2019, all under the age of 30.
The culmination of the COMESA Silver Jubilee Anniversary will be the 40th Council of Ministers meeting, which will take place tomorrow, Friday, 29 November 2019. The Ministers will review and approve the COMESA work programme and budget for 2020.