"Invest with confidence," COMESA Court urges investors

Khartoum, Wednesday, February 15, 2017: The COMESA Court of Justice has assured the business community and potential investors in the region of protection against any acts that violate the guarantees enshrined in the COMESA Treaty relating to regional integration trade and investments.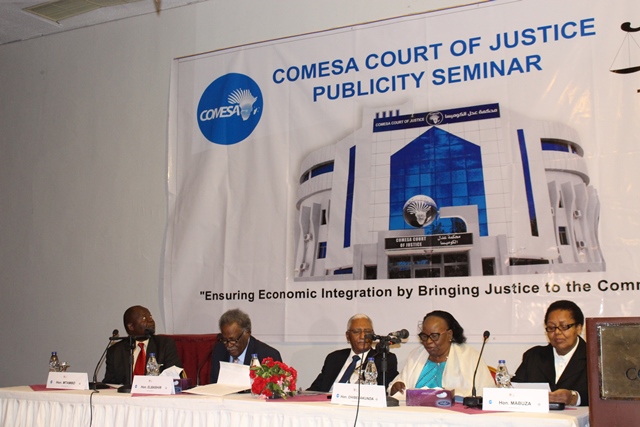 President of the Court Justice Lombe Chibesakunda said the Court had already set a precedent by providing remedies to parties whose rights has been violated in the past. She was speaking in Khartoum, Wednesday 16 February 2017 during a stakeholders' publicity seminar hosted by the Court. It was attended by members of the business community, the Judiciary, the legal profession, government and diplomats based in Sudan.
The judge said the Government of Sudan and other members States could cite the COMESA Court and its institutions that provide protection for investors (including foreign investors) intending to put their money into the region that it is safe to do so.
Despite the COMESA Court having been in existence since 1994, Justice Chibesakunda observed that its services are not widely known or understood and have been under-utilized by the COMESA Member States and other stakeholders.
"It is therefore crucial that all the Member States, their residents, legal fraternity, business community and other stakeholders get to understand the operations of the Court,' she said. "This will enable them to fully utilize it as a dispute resolution forum for matters arising within the region that touch on the application of the COMESA Treaty."
She said this will only happen when the Court makes deliberate efforts to visit all the Member States and sensitize their people about its role and operations.
In the last two years, the Court has conducted seminars in five countries including Swaziland, Ethiopia, Kenya, Uganda, Madagascar and currently Sudan.
"Our ultimate goal as a regional Court is to cover all our Member States in the fullness of time," said the Court President.
Among the key issues raised by the participants included the co-relation between the COMESA Court and the national Courts and tribunals; the jurisdiction of COMESA Court; eligible litigants to the Court, conflict between national laws and the COMESA legal system among others.
The judge noted that with the deepening of regional integration, international dispute resolution skills will come in handy and therefore invited the lawyers to position themselves to fully utilize the services that the Court has to offer beyond their national borders.
The Minister of Trade of Sudan H.E. Ambassador Salah Mohamed Saeed said his country stood to benefit immensely from the location of the COMESA Court in Sudan. He urged the local business people and the legal professionals to take the full advantage of the Court presence to grow their businesses and professions.
Eleven of the 12 Judges of the Court are participating in a two week tour of duty in Sudan which includes a sitting of the Appellate Division of the Court, the publicity seminar, training on arbitration and meetings with selected government officials.