Focus on Sudan as the COMESA Court holds series of events

Khartoum, Tuesday, February 14, 2017: Judges of the COMESA Court of Justice conducted a two week tour of duty in Sudan. This is the first time that the current Bench which was sworn in 2015 was in Khartoum, the seat of the Court.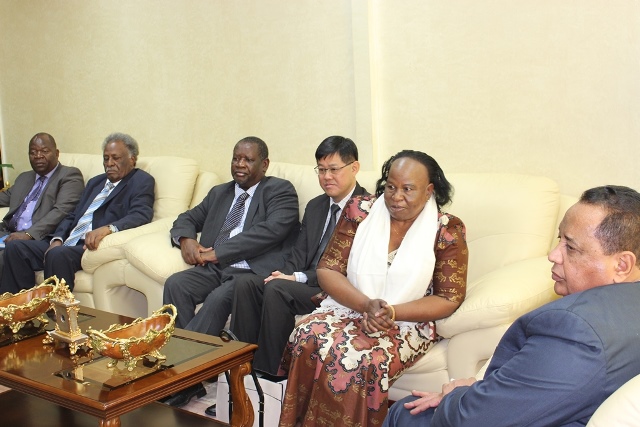 The programme involved a sitting of the Appellate Court to hear a matter involving the Government of Malawi and a telecommunication company, the Malawi Mobile Limited. Other activities were a publicity seminar for stakeholders, training on arbitration and visits to various government ministries and departments that deal in judicial matters and international relations.
Eleven of the 12 judges of the Court participated in the programme. They included all the five Appellate Judges led by the Judge President Lady Justice Lombe Chibesakunda, (Zambia), Justice Abdalla Elamin El Bashir (Sudan), Justice Dr. Michael Charles Mtambo (Malawi) Justice David Chan Kan Cheog (Mauritius) and Justice Dr. Wael Marodouh Hassan Rady (Egypt) .
Judges of the First Division Court in the team include the Principal Judge Lady Justice Qinisile Mabuza (Swaziland) Justice Ali Sulaiman Mohamed (Ethiopia) Justice Mary N. Kasango (Kenya) Justice Dr. Leonard Gacuko (Burundi); Justice Clotilde Mukamurera (Rwanda) and Justice Chinembiri Energy Bhunu (Zimbabwe).
On Tuesday February 14, 2017, the Minister of Foreign Affairs of the Sudan H.E. Ibrahim Ghandour hosted the judges in his office. He expressed Sudan's commitment to support the Court is now in its third year since it relocated to Khartoum from Lusaka.
Justice Chibesakunda congratulated Sudan following the lifting of economic sanctions by the United States.
The Minister appreciated the role of COMESA member States in supporting Sudan and for relentlessly advocating for the lifting of the sanctions. He said his country will now be in a position to pay its due contributions to the COMESA Court and the Secretariat as well as other contributions to international organizations.
The judges also paid courtesy calls on the Supreme Court of Sudan and the Ministry of Justice