COMESA Court of Justice participates in International Trade Fair at Nairobi, Kenya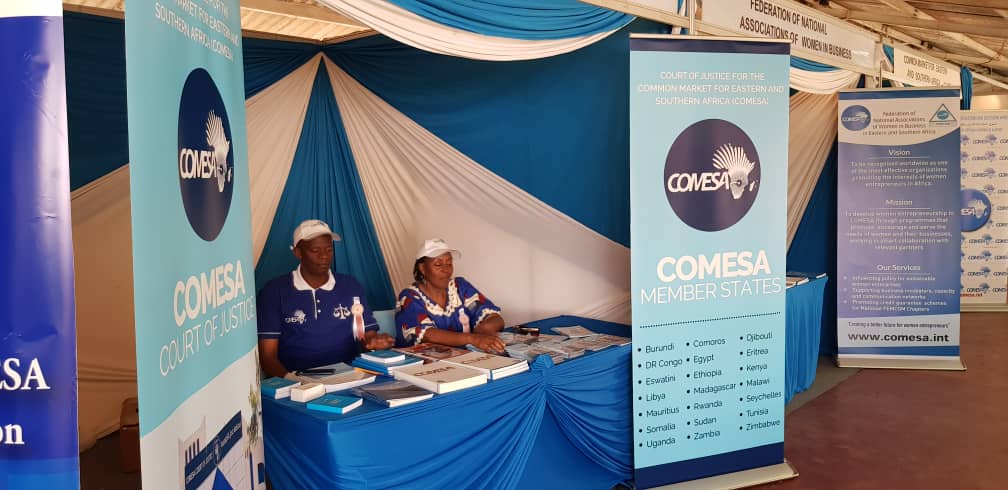 The COMESA Court of Justice is among COMESA Organs and Institutions currently taking part in the Nairobi International Trade Fair from 1 – 7 October 2018. The COMESA Secretariat, led by the Corporate Communications Unit, the Federation of COMESA Women in Business (FEMCOM) as well as the COMESA Competition Commission (CCC) are also represented. The NITF offers an opportunity for regional, continental and global exhibitors to display and demonstrate their services and products. It also offers exhibitors an opportunity to network with people from different countries and backgrounds, hence creating a platform for interaction and exchange of ideas and experiences.
The CCJ has used this opportunity to create public awareness of the Court and sensitise the public about the mandate of the Court and its role in regional integration through person to person interactions with participants and distribution of the CCJ Users Guide and Information Booklet.
During interaction with participants some of the Frequently Asked Questions (FAQs) were:
• What is COMESA?
• What is the COMESA Court of Justice?
• Does the CCJ have Jurisdiction over criminal, political or territorial disputes?
• Does the CCJ have sub registries in Member States and how can it be easily contacted?
• How does an individual enforce a judgment of the CCJ?
The CCJ was represented by the Registrar Hon. Nyambura Mbatia, the Assistant Registrar Hon. Philippe Ruboneza and the Clerk of Court Mr Asiimwe Anthony.
To get more photos click the below link፡
http://comesacourt.org/comesa-court-of-justice-participation-on-international-trade-fair-at-nairobi-kenya-photo-gallary/