Former COMESA Court Judge Passes on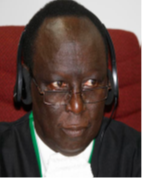 A former Judge of the COMESA Court of Justice Dr Justice Adrien Nyankiye, who passed away on 13 February 2018 will be buried Tuesday, 20 February 2018 in his home country, Burundi.
Justice Nyankiye was one of the pioneer Judges of the Court from 1998 to 2004. Later, in 2005, when the Court was split into two divisions: The First Instance Division and the  Appellate Division, Justice Nyankiye joined the former where he served for 10 years until he retired in 2015.
In her Message of Condolences, Judge President of the COMESA Court of Justice Hon Lady Justice Lombe Chibesakunda, described the late Nyankiye as an expert on the rules and procedures of the Court.
"We are immensely grateful to him for his contribution," Justice Chibesakunda said in her condolences message delivered by Honourable Dr. Justice Gacuko of the COMESA Court of Justice accompanied by the Registrar Hon. Nyambura Mbatia.