New Judges Inducted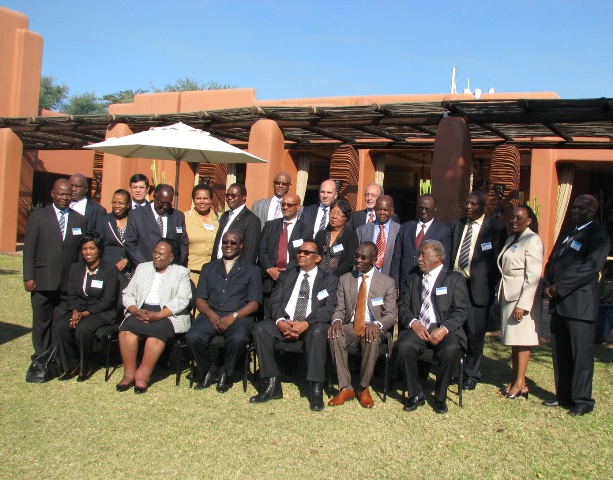 An induction course for the new Bench of the COMESA Court of Justice is currently underway in Livingstone, Zambia. The course is aimed at acquainting the judges of the both Appellate and First Instance Divisions with the various aspects of COMESA Court as they prepare to take office.
The three day interaction involve discussions and presentations on the Court's institutional framework, the establishment and it composition, the Jurisdictions of the COMESA Court, Rules of Procedure and the achievements and challenges among several other issues. The outgoing Bench also participated in the course.
Addressing the Judges during the official opening of the course, Zambia's Minister of Justice Honourable Ngosa Simbyakula called for the speedy resolution of matters that are brought before the COMESA Court.
"In order for you as a Court to contribute to the growth of COMESA, it will be important for speedy resolution of matters brought before you," the Minister said. "That way, litigants in our region will feel confident and be encouraged to refer disputes to the COMESA Court of Justice.
He said that speedy delivery of Justice was critical in enhancing the image of the COMESA Court and confidence in the residents of our region. As the economies of the region grow, he observed, so will the level of interaction and cooperation which will lead to the rise in the number of matters that shall be referred to the Court.
Hon. Simbyakula paid tribute the outgoing bench for having provided exemplary service to the Court and region which they served for 10 years.
Incoming Judge President Justice Lombe Chibesakunda welcomed the new judges and reminded them of the huge task ahead of taking the COMESA Court of Justice to greater heights in terms of service delivery and jurisprudence.
"The interaction is important so that we gain a better understanding of regional integration particularly with the recent launch of the Tripartite Free Trade Area that has brought together the three economic blocks of the EAC-COMESA and SADC. How will this impact the Court? Where will disputes be adjudicated? Those are some of the questions that may arise," Justice Chibesakunda added. She advised the new judges to aspire to achieve a greater degree of fairness.
Outgoing Judge President Justice Nzamba Kitonga said the joint induction course was historical as it was the first time that outgoing and incoming judges were interacting.
The COMESA Court of Justice is the judicial organ of COMESA whose core function is to adjudicate upon all disputes between Member States that would arise from the interpretation and application of the COMESA Treaty.